Note: You may see our previous review of the celebration by clicking here.
Dear Celebratees,
We hope you are celebrating with us, even if you did not attend in person. Everyone who did attend went home elated, and enlightened that such pleasant surprises were still possible. To true friendships, true fraternity, evolved, just like the constitution expected.
Here is the final update of attendees, based on the Hyatt's final Banquet and Event counts:
Wednesday Reception: 74
Thursday Breakfast: 71
Thursday Lunch: 94
Thursday Reception: 136
Thursday Dinner: 142
Friday Breakfast: 108
Friday Coffee: 81
Friday Lunch: 83
Friday Reception: 50
Friday Dinner: 73
Saturday Breakfast: 58
Please read Betsy Warriner's remarks. She brought her daughter. Laura. And Sara Muspratt's remarks. She saw all the festivities in the style of a Jane Austen novel. And look on the left at Georgia Bush and her mother Joan Hutchins adding new meaning to Live Streaming.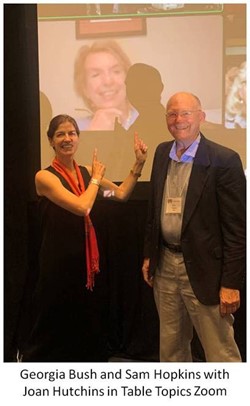 Betsy Warriner: What a wonderful three days of celebration. Thank you!! Laura and I both had an even greater time than we expected. I loved connecting with my closest Radcliffe friends, good food and conversation over meals (excellent idea to have a couple of seated meals to mix us up with each other), hearing beautiful music, the memorial service name-reading and sharing of wisdom, the dioramas and the film, the panel and table talks, and everything else.

I thought the schedule was beautifully planned, including having time between planned events. The hotel was great, the people who served us were wonderful, and the easy access to walking by the river was a real treat. I didn't know most of the people there, but coming together 61 years after our shared experience felt like being among old friends.

Kudos and gratitude to you and the whole leadership team for such a successful and enjoyable reunion. Happy our paths crossed again.

Sara Muspratt: The celebration you envisioned and made happen, at the expense of a mind boggling amount of planning and cajoling and organizing and persistence, became a truly memorable grand finale.

You got everything right: the attractive hotel with its unusually pleasant and attentive staff was a fine setting. The beautiful views and lovely food at the reception gave us a good opportunity to recognize our much changed contemporaries again. And the reflections and prayers and lovely music contributed by classmates made the extremely moving Memorial Service dignified and comforting.

Showing the video of the restoration of the dioramas was a real inspiration. The tale of finding them and persuading Harvard to "Allow" (!!!) them to be fixed and set up again and the wonderful close ups made it clear how important it was to save them. I loved seeing them in their new setting – just wished for some signage. Even after being wholly enthralled by the movie, when we saw the Real Thing, it was hard for me to identify the buildings.

I really enjoyed both the luncheon and the dinner on Thursday. The seating at the dinner introduced me to several fascinating couples. And there was time both days to spend with the old friends who persuaded me to come.

The wide range of the discussion topics Friday morning was impressive. I very much liked having the discussion introduced by such knowledgeable speakers. I appreciated being given a sense of how each topic would be approached and then a chance to rethink the group we wished to join. I haven't before seen zoom participants so well integrated with those actually present.

But the best part of the Friday program for me was the presentation of the beautiful church mirror you chose for the gift to Newell's family. What a perfect choice! As an old friend of his, I was especially happy that you and Greg were deeply moved by how much he cared about Harvard.

And then to end the evening with fun – dancing and music to enjoy the party – marvelous!

Again, thank you so much for making this reunion such a happy and significant one. I feel very lucky to have been a beneficiary of all your hard work. Looking forward to hearing of your future projects!

Bill Nickerson: Congratulations to you for leading the celebration. Given what it took to make this happen it is very clear that there would have been no celebration at all without your leadership and relentless efforts to overcome the many obstacles. Still not sure how you did it. I enjoyed it very much. The class owes a great deal to you.

Myra and Roy Gordon: The reunion was quite wonderful. The whole thing exceeded our expectations. We are rereading Zoob's talk with interest. And savoring all of the festivities and dancing memories.

Patricia Cleary Miller: Thank you for your years of dedication that led to the Harvard-Radcliffe Class of 1961 Best Reunion Ever. Perfect and fabulous in every way: spiritually, intellectually, artistically, and friendshiply. Truly, you're doing for all!
If you didn't attend, or missed some of the Live Streaming, or never saw any of it at all, you can still see anything you wish for. There is a remedy with these three options:
Option A: Video of Memorial Service with prayers, reading of names, two choral anthems, and the closing hymns of Radcliffe and Harvard. Free upon Request

Option B: Video Live Stream Recording of All the 2022 Celebration Events, upon request, for the low, low price of $148.00. This Option is also free for Partial Package Attendees who paid $500 or mor per person. as well as free to Full Package Attendees, and to Live Stream Subscribers, upon request.

Option C: Purchase a Choral Video Recording, if you prefer, of just the two Church Anthems and the entire Choral Concert Performance, available for $75.00, upon request.

The permanent Live Stream recordings will begin to be available to purchasers through an iCloud link which we will send you after July 1. More pictures and information are available on the Class Website. (paste http://1961.classes.harvard.edu/ in your browser)
Please contact Sara McGee (semcghee@yahoo.com) today, to request your choices of the above Options. Then, please send your check to Ms. Joan M. Hutchins, 145 Green Acres Road, Elizaville, NY 12523.
Since we have clearly developed our appetites for group gatherings, why stop when we are this far ahead? Please think about setting aside time on November 19th to attend The Game and convene at The Four Seasons in Boston for our Biannual Awards Dinner. This year, we will celebrate the lives of David Souter, Tim Wirth, Gordon Gund, Joan Hutchins, David Larkin, and Bronson Thayer.
With best regards,